Shopping, Dining & Nightlife
It makes sense that an area populated by so many medical professionals is packed with amenities.
World-class physicians and their medical support teams make good money, but they also have high-stress jobs and value their downtime. Savvy businesses have picked up on this, and eagerly set up shop to cater to the locals. Even if you're not one of the high earners in the neighborhood, live here and you'll reap the benefits.

The best burger joint around, Maple & Motor.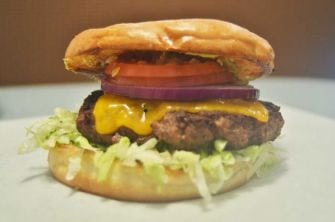 As you'd expect, there are high-end grocery stores (Whole Foods and Kroger) in the neighborhood, and you can bike to some of the best restaurants in Big D. Standouts include Blues Burgers, Mike Anderson's BBQ House, El Tizoncito (you must try the tamarind margarita) and Oishii sushi, rumored to have the best fried rice in Dallas.v

Limited Green Space
If you crave green space, you may have to hop in your car or ride your bike to get there.
Most of apartments in the Medical District all have on-site dog parks to cater to the pet owners, but the Medical District is mostly a concrete jungle. The good news is, you are not far from the Trinity Groves & even The Katy Trail which gives you access to miles of running & biking trails. Bachman Lake park near Love Field is also a fairly close green space.